Tsunami Survival Guide for Australian coastal communities
(don't stay at home without it)
Australian tsunami risk
Is Sydney at risk?
-
Youtube presentation
.
Tips from a survivor.
Australia & Pacific tsunami news
Indian Ocean [Earthquake] Tsunami 26 Dec 2004 - news & updates
Historical tsunami (maps updated 17 Mar 2011)
Current Pacific Ocean Tsunami Warnings
(US government)
(Generic)
Tsunami Travel Time Maps for the Atlantic, Indian and Pacific Oceans
Tonga earthquakes
(3 hours from Sydney!)
Chile Earthquakes
(16 hours from Sydney)
Quake:
Live earthquakes map
+ KrillOil:
Historical quakes from 2005
Subscriber alerts:
Australian Early Warning Network - subscription to postcode-aware SMS warning system that includes tsunami warnings from BoM. Update 2011: New members will receive the first three months SMS alerts free. After this period they can elect to keep receiving these at a cost of one dollar per month...
SMS-Tsunami-warning.com is a real time global alert system for earthquakes and tsunamis sourced from international seismic scientific centres. SMS Tsunami Warning monitors global earthquake activity and alerts registered members via email or SMS should a Tsunami threaten your particular location. Registration is free for basic services and you can upgrade to premium services anytime
Tsunamis explained and the (low) risk of Asteroid Impact Tsunami
Purpose

This page is mainly concerned with prevention of future tsunami disasters by identifying communities that are vulnerable to tsunami and ensuring that people know what to do in the event of a tsunami warning. It was started in 1999. Note that on several occasions over the years I have tried to get my local newspaper - the Manly Daily - to cover this issue but there has been no response. This, of course, has nothing to do with the revenue the paper gets from advertising real estate at the water's edge!
Illawara Mercury "Hopefully it never happens but it is important we are prepared..."

BBC "knowing how to act before one happens is the best preparation."


[A lack of] Global conventions

I recommend that emergency authorities give consideration to two measures that would be globally recognised by people in locations vulnerable to tsunami


Approximately every fifth telegraph pole has one orange band that is 5 metres above mean sea level or two orange bands that are 10 metres above mean sea level.
Five toots of a car horn or emergency siren is a signal to evacuate due to tsunami

Alternative measures to these might already be in place or under consideration. In any case there is a need to set global conventions for tsunami information so that travellers know what to do.
Australia
Update December 2014 (ten years on from the Boxing Day tsunami)

Still no signs that people living along the coast of Australia are prepared for a mega-tsunami. Prepare-Act-Survive is the message for bushfires and cyclones but this is not the case for tsunami awareness. See "Tsunami Survival Guide"



Update - December 2009

Local and Regional Tsunami Action Plans are now being implemented by State Emergency Services around the coastline of Australia. This is an excellent, if not overdue, development.

The advice on this page applies to people living in areas that are not yet prepared for a mega-tsunami through a Tsunami Action Plan. Check your SES through these links (* some of these are currently home page links, pending the preparation of tsunami advice pages):



Reduce your personal risk (created by Michael Paine, May 2008)
Be alert and prepared - not alarmed. This is a low-probability, high-consequence event that calls for a little preparation in case a warning is issued. These are similar to the things that people do to prepare for cyclone warnings in tropic areas and bushfires. The following advice applies mainly where there is no local tsunami action plan.
Although the likelihood of a mega-tsunami is low there are some simple things you can do to significantly reduce the risk of fatality:
Identify if you live, work or play in a vulnerable location - find out the approximate height above mean sea level. As a rough guide coastal and estuary land less than 10 metres above mean sea level is "at risk" and 5m or less should be considered "vulnerable". Google Maps has a sea level rise add-on (update: no longer available - try this tips page or Sea Level Rise Explorer) that can give a very rough guide (detailed modelling is needed to assess vulnerability as there are many factors that influence tsunami inundation). The following links are to JPG screen snapshots from Google Maps - red shows 5m contour and yellow shows 10m contour: - Narrabeen, Manly, Sydney , Brisbane, Gold Coast, Sunshine Coast, Nowra, Wollongong, Gosford, Newcastle and Forster (Update Dec09: There are more accurate maps being developed by SES organisations and this page will link to them when they are published on the internet or try Sea Level Rise Explorer).
Identify a safe location to go to in the event of a tsunami warning - a nearby hill or headland or at least the third storey of a reinforced concrete building
Plan an evacuation route by foot to reach that safe location (avoid the need for driving a car because the roads will likely gridlock)
Subscribe to the email or RSS warning service of the US Pacific Tsunami Warning Center
Subscribe to a mobile phone alert service like the Australian Early Warning Network which offers a free SMS service that relays tsunami warnings issued by the Australian Bureau of Meteorology. The service also covers other risks such as bushfires and cyclones. SMS-Tsunami-warning.com is a similar international service. With hundreds of thousands of people potentially afffected, you may not be able to rely on the Internet, landline telephones or mobile phones at the height of a tsunami emergency so have a portable radio available for receiving updates.
If you receive a tsunami warning that is relevant to your location, or feel an earthquake, quickly get your evacuation plan into action. If a mega-tsunami does inundate the area do not return to low-lying land until given the all-clear by emergency services as other waves are likely to follow after the first wave and each wave can last for 20 to 30 minutes. The danger may last for many hours and possibly more than 24 hours.
Approach your local council and politicians and ask to support (ie fund) State SES to develop tsunami warning action plans and infrastructure (such as a public address system) and to have inundation modelling carried out. See the [NSW] State Tsunami Plan( pdf 2311kb) - issued in 2005.
Most importantly, relax and enjoy living near the ocean, knowing that you have made basic preparations for a worst case scenario
Update Nov09: Brochure "
Tsunami Survival Guide
" based on the above tips
Tips from a tsunami survivor
These tips are from Kristin Fedorow, an Australian who survived the 2004 tsunami on the Thai coast:
1) Tsunamis usually have more than one wave
2) The later waves are usually much bigger
3) The water does not necessarily recede before the wave approaches
4) The wave does not necessarily look big as it comes in
5) The time between waves can be much longer than a few minutes
These points are illustrated in this Youtube video:
Japanese mega-tsunami in 2011
and this confronting movie about the 2004 tsunami:
The Impossible
.
Slide show presentation on the tsunami hazard to Sydney (by Michael Paine at a Friends of Narrabeen Lagoon Catchment meeting, March 2008)
Includes recent computer modelling of a mega-tsunami from the Tongan Trench that has similar features to the 2004 Indian Ocean Tsunami.
Update 2008
Geoscience Australia tsunami page with a brochure link. Opinion: the tsunami hazard to the east coast appears to be under-rated.
Echoes of ancient tsunamis (2006) Along the eastern Australian coastline, where most Australians live, the tsunami threat comes from several sources. Although they have produced few historical tsunamis, the Solomons trench, the New Hebrides trench off Vanuatu, the Tonga–Kermadec trench north of New Zealand, the Alpine fault in New Zealand and the Puysegur trench south of New Zealand may all have the potential to produce earthquake-generated tsunamis capable of reaching Australian shores. More work needs to be done to characterise the earthquake mechanisms in these regions... The steep slopes of the continental shelf on the eastern Australian margin may induce underwater landslides capable of producing localised tsunamis...
The Joint Australian Tsunami Warning Centre - The establishment of the fully functional Australian Tsunami Warning System is a four-year project funded by the Federal Government that is due to be completed in June 2009. At the completion of the project Australia will have considerably improved earthquake and tsunami detection equipment in Australia and around the region, enhanced scientific modelling of tsunami, a responsive warning system, and increased public awareness and community preparedness.
Science of Tsunami Hazards: TSUNAMI SCENARIO SIMULATOR: A TOOL FOR ENSURING EFFECTIVE DISASTER MANAGEMENT AND COASTAL EVACUATION IN A MULTILANGUAGE SOCIETY + TSUNAMI PUBLIC AWARENESS AND ITS ROLE IN RISK EDUCATION "The 2004 Indian Ocean tsunami has demonstrated that large magnitude, destructive tsunami occur in areas close to Australia. The commitment by the Australian Federal Government to the development and installation of an Australian Tsunami Warning System is a vital element in helping to keep Australian coastal communities and public and private infrastructure and assets safe from tsunami. However, the physical components of the warning system are only one element of making Australia safe. The other, perhaps more important element, is preparedness and response. Emergency Management Australia and the State Emergency Services are the agencies tasked with the responsibility of evacuating coastal communities if required. The success or otherwise of public response to tsunami warnings will be dependent on their understanding of tsunami hazard and risk. We provide selected results from a pilot investigation into public awareness of tsunami risk in the Sydney region – a fundamental necessity for developing appropriate risk mitigation strategies. Our questionnaire survey of members of the general public and coastal council professional officers indicates that little has been learned since the December 2004 Indian Ocean tsunami disaster. This presentation provides a summary of what the public knows and importantly, does not know with respect to tsunami. We make a series of recommendations to assist responsible organisations in thinking about risk mitigation."
28 Aug 08 A survivor of the Indian Ocean Tsunami has started a Facebook page to raise awareness of the risk: Tsunami Aware Beach-Lovers.
May 08: Taking a punch: Building a more resilient Australia - report "We need greater clarity on the precise management and coordination arrangements in the case, for example, of a devastating tsunami impacting on southeast Australia...The Commonwealth agency seen to be responsible for this, Emergency Management Australia (EMA), has no mandate, legislation or Cabinet endorsement with which to take command. The delivery of EMA functions for the most part is the result of goodwill on behalf of other agencies. This is clearly not a satisfactory situation." "A $70 million early warning system is being set up to record any earthquakes that could trigger giant waves to strike the NSW coast but it's not clear how communities get informed, particularly if a night-time incident occurred..."
Why weren't we warned? Fiction to raise awareness
The Australian Tsunami Warning System and lessons from the 2 April 2007 Solomon Islands tsunami alert in Australia - Dale Dominey-Howes, UNSW & others "This has taught us two important lessons. First, the physical warning system is not enough in itself to result in a reduction of vulnerability to tsunami. Just because we have a warning system does not mean the job is done. Second, much work needs to be undertaken to ensure that communities have been educated about tsunami hazard and risk and what alert and warning messages mean, how to react, where to evacuate and how quickly to respond. Furthermore, the emergency services and the Emergency Management Australia must work urgently to effect community tsunami disaster management planning, identification of safe evacuation zones, testing and evaluation of tsunami warning messages and trialing of these plans with the public." + Geological and historical records of tsunami in Australia (abstract) + Tsunami and palaeotsunami depositional signatures and their potential value in understanding the late-Holocene tsunami record (abstract "we are unable to replicate the previously reported findings of tsunami deposits...") + Tsunami risk mitigation and the issue of public awareness
Emergency management of tsunami in New South Wales and the response to the Solomon Islands tsunami April 2nd 2007 - Australian Journal of Emergency Management
Update July 2006 with advice from EMA (see also Australian news)
Key points (thanks Mark Sullivan, Director Capability Development EMA):
EMA is working with States and Territories and relevant industry, education, volunteer and community sectors to enhance community preparedness through awareness raising, education and training.
Over four years, from July 2005 to June 2009, the Bureau of Meteorology, Geoscience Australia (GA) and Emergency Management Australia (EMA) will implement a comprehensive end-to-end Australian Tsunami Warning System (ATWS). The ATWS will be delivered through enhancements to the existing Australian Tsunami Alert Service (ATAS), and will comprise upgraded seismic and sea level monitoring networks, computer modelling of tsunami propagation to aid impact forecasting, and national awareness raising and capacity building initiatives. The ATWS, once fully operational, will deliver timely and accurate warnings to the Australian community in such a way as to elicit an appropriate response from those at risk.
By 2007 estimates will have been made of the credible limit of offshore tsunami wave height for the entire Australian coastline.
Inundation modelling is being undertaken for some West Australian coastal communities
Australian Emergency Management Committee's Tsunami Working Group will meet in September 2006 with a view to agreeing on a national strategy for awareness raising and capacity building. Some local jurisdictions have already developed hazard specific arrangements for tsunami, and EMA is committed to working with all jurisdictions to enhance these already existing arrangements to effectively respond to a rapid onset event such as tsunami, including the eduction sector.
Communities and key stakeholders have been, and continue to be, engaged; and a national picture of tsunami risk is being developed. In the very near future, the Australian community can expect to be provided greater access to relevant
awareness material, and those with key responsibilities will further benefit from tailored education, training and exercising. On this basis, the Australian community will come ever closer to being a 'Tsunami Aware Community', and thus be better prepared to respond appropriately to signs of tsunami in Australia and overseas, as well as respond in a timely and appropriate way to ATWS warnings.
Related links

NSW State Emergency Services: Tsunamis - The SES is the designated combat agency for tsunami. Following is information on what is a tsunami and how you can be prepared should one occur... [NSW] State Tsunami Plan ( pdf 2311kb) - issued in 2005
Quantify the threat to Australian coastlines from tsunami (1999)

Develop a project plan for tsunami research and mitigation
Provide technical and operational advice and oversee the implementation of the plan
Conduct further research into geological evidence of tsunami along the Australian coastline
Conduct further research into archaeological and historical evidence of tsunami affecting coastal Aboriginal populations.
Liaise with international experts on the vulnerability of the Australian coastline to tsunami
Arrange computer simulations to determine the likely effects of tsunami on various parts of the Australian coast
Review tsunami warning and mitigation systems in place in Japan and the West Coast of North America.
Develop a proposal to implement an appropriate tsunami warning and mitigation system in Australia.
(Extract from "
Australian Spaceguard Survey: the Australian component of an international effort to detect Earth-threatening asteroids and comets
" - May
1999
.
Responses from Australian politicians
.)
NEWS - Australian & Pacific tsunami-related (latest at top)
21 Sep 09 ABC: Aussie geologist calls for volcano eruption plans.
13 Sep 09 Sri Lanka Sunday Observer: Tsunami warnings are only a test...be alert to these warnings all those of you who are in any of these districts and educate yourselves as to what you should do in the event of a real tsunami warning. You must not panic because there is enough time for you to get to higher land and safely before a tsunami reaches our shores. It is good to be prepared for such a situation at all times.
12 Aug 09 Globe & Mail: Australia boosts tsunami detection.
10 Aug 08 TSUNAMI BULLETIN NUMBER 001, PACIFIC TSUNAMI WARNING CENTER/NOAA/NWS
ISSUED AT 0417Z 10 AUG 2009. AN EARTHQUAKE HAS OCCURRED WITH THESE PRELIMINARY PARAMETERS
ORIGIN TIME - 0407Z 10 AUG 2009, COORDINATES - 11.7 SOUTH 166.2 EAST, DEPTH - 33 KM LOCATION - SANTA CRUZ ISLANDS, MAGNITUDE - 6.6. EVALUATION: NO DESTRUCTIVE WIDESPREAD TSUNAMI THREAT EXISTS BASED ON HISTORICAL EARTHQUAKE AND TSUNAMI DATA.
6 Aug 09 9.10am USGS: Magnitude 5.0 earthquake OFF THE SOUTH COAST OF AUSTRALIA - Thursday, August 06, 2009 at 06:43:27 AM at epicenter, 38.848°S, 137.238°E, Depth 20.4 km (poorly constrained). Comment: Although the earthquake was "mild" the possibility of an undersea landslide and local tsunami should not be ignored.
17 Jul 09 Nature: Tsunami forecast in real time - Russian tsunami modeller seizes unexpected opportunity after New Zealand earthquake.
17 Jul 09 Newcastle Herald: No-show tsunami proved a good test. Comment: The tsunami warning system might have "passed its test" but coastal communities do not know what to do in the event of a severe tsunami warning. See my "be prepared" list and the fiction piece that describes shortcomings + Others agree - ABC: Calls for better planning after tsunami threat + Victorian MP Craig Ingram.
I have also prepared a very rough guide to vulnerable towns in the Newcastle area - see the map on the above page. Please use these resources to raise awareness for your readers.
16 Jul 09 Sky News: Tsunami Alert Lifted After NZ Earthquake. Comment: Most residents along the NSW coast were probably watching the State of Origin rugby league match and the alert went unheeded. My fiction piece Why weren't we warned? describes the chaos that may have occured if the tsunami had been larger.
15 Jul 09 8.47PM Sydney time: TSUNAMI BULLETIN NUMBER 003, PACIFIC TSUNAMI WARNING CENTER/NOAA/NWS
ISSUED AT 1051Z 15 JUL 2009
... TSUNAMI WARNING CANCELLATION ...
THE TSUNAMI WARNING AND/OR WATCH ISSUED BY THE PACIFIC TSUNAMI
WARNING CENTER IS NOW CANCELLED FOR
NEW ZEALAND
ORIGIN TIME - 0923Z 15 JUL 2009
COORDINATES - 46.0 SOUTH 166.3 EAST
DEPTH - SHALLOWER THAN 100 KM
LOCATION - OFF W. COAST OF S. ISLAND N.Z.
MAGNITUDE - 7.8
MEASUREMENTS OR REPORTS OF TSUNAMI WAVE ACTIVITY
GAUGE LOCATION LAT LON TIME AMPL PER
------------------- ----- ------ ----- --------------- -----
Jackson Bay, NZ 43.97S 168.62E 10:18Z 0.17M 10min
DART Tasman Sea, NZ -46.92S 160.56E 09:53Z 0.05M 8min
EVALUATION

SEA LEVEL READINGS INDICATE A TSUNAMI WAS GENERATED. IT MAY HAVE
BEEN DESTRUCTIVE ALONG COASTS NEAR THE EARTHQUAKE EPICENTER. FOR
THOSE AREAS - WHEN NO MAJOR WAVES ARE OBSERVED FOR TWO HOURS
AFTER THE ESTIMATED TIME OF ARRIVAL OR DAMAGING WAVES HAVE NOT
OCCURRED FOR AT LEAST TWO HOURS THEN LOCAL AUTHORITIES CAN ASSUME
THE THREAT IS PASSED. DANGER TO BOATS AND COASTAL STRUCTURES CAN
CONTINUE FOR SEVERAL HOURS DUE TO RAPID CURRENTS. AS LOCAL
CONDITIONS CAN CAUSE A WIDE VARIATION IN TSUNAMI WAVE ACTION THE
ALL CLEAR DETERMINATION MUST BE MADE BY LOCAL AUTHORITIES.
NO TSUNAMI THREAT EXISTS FOR OTHER COASTAL AREAS IN THE PACIFIC

29 May 09 ABC: Recommendation for national disaster plan delayed - Significant limitations exist in national capability to deal with the consequences of a catastrophic event arising from natural, technological or human cause...
28 May 09 ABC: Disaster response review kept secret: author + interview: Disaster report under wraps since 2005 [opinion: in my view coast dwellers deserve to be told that low-lying areas are vulnerable to tsunami - so that they will heed warnings and have a basic knowledge of appropriate action to take]
27 May 09 The Australian: Natural disaster findings kept secret over community panic fears - "... there were "significant limitations" to Australia's ability to deal with such disasters..."
17 May 09 The Age: Tsunami warning buoy vandalised.
14 May 09 Emergency Management Queensland: Emergency Services provides Disaster Awareness education to [Townsville] Northern Beaches schools - a method that has proved incredibly effective in getting messages to the community as a whole, and that is by targeting the awareness sessions at school aged children, who then take the message home to family, friends and relatives...(thanks Kristin Fedorow)
14 May 09 The Age: Disaster review kept secret - A NATIONAL review kept secret for more than three years by successive federal governments warned that Australia was not properly prepared for catastrophic disasters, such as the Black Saturday bushfires, and found an overwhelming need for a national warning system. The review, prepared in 2005, made a series of recommendations, including that governments improve their ability to disseminate warnings and advice to communities at risk. The review, tendered at the Bushfires Royal Commission, measured Australia's capability to respond to four scenarios - a cyclone in Cairns, a major earthquake in Western Australia, a tsunami in NSW and an influenza pandemic.
12 May 09 The Australian: Tsunami 'could annihilate data cables'
8 May 09 BBC: Monster wave gives up its secrets - this BBC item is about "normal" ocean waves but it refers to vortex generation that is also responsible for the enormous erosional power of tsunami.
5 May 09 San Diego Tribune: Waves of the future - Local [US] company helps build tsunami early warning system [for Australia]
30 Apr 09 GoldCoast.com: Gold Coast City Council disaster plan "in the event of a tsunami, people should head above the fifth floor of a high rise or to higher ground including Robina, Southport, Mudgeeraba and the Hinterland."
19 Apr 09 The Mercury: Tsunami hot spots - Six at-risk communities on Tasmania's southeast and east coasts have been targeted by the State Emergency Service and Tasmania Police for information briefings about the tsunami threat.
10 Apr 09 Science ($): A Great Earthquake Rupture Across a Rapidly Evolving Three-Plate Boundary.
10 Apr 09 Seattle PI: Deadly Pacific quake keeps surprising scientists.
7 Apr 09 Fiji Daily Post: No money for disaster agency.
21 Mar 09 Fiji Times: Monitor records 12cm tsunami.
20 Mar 09 (7.48am) Sydney) SMH: Tsunami warning after quake strikes.
20 Mar 09 (7.30am Sydney) TSUNAMI BULLETIN NUMBER 003
PACIFIC TSUNAMI WARNING CENTER/NOAA/NWS
ISSUED AT 2008Z 19 MAR 2009
... TSUNAMI WARNING CANCELLATION ...
THE TSUNAMI WARNING AND/OR WATCH ISSUED BY THE PACIFIC TSUNAMI
WARNING CENTER IS NOW CANCELLED FOR
TONGA / NIUE / KERMADEC IS / AMERICAN SAMOA / SAMOA /
WALLIS-FUTUNA / FIJI

20 Mar 09 (7am Sydney) PACIFIC TSUNAMI WARNING CENTER/NOAA/NWS

ISSUED AT 1932Z 19 MAR 2009
... A TSUNAMI WARNING IS IN EFFECT ...
A TSUNAMI WARNING IS IN EFFECT FOR
TONGA / NIUE / KERMADEC IS / AMERICAN SAMOA / SAMOA /
WALLIS-FUTUNA / FIJI

FOR ALL OTHER AREAS COVERED BY THIS BULLETIN... IT IS FOR
INFORMATION ONLY AT THIS TIME.

THIS BULLETIN IS ISSUED AS ADVICE TO GOVERNMENT AGENCIES. ONLY
NATIONAL AND LOCAL GOVERNMENT AGENCIES HAVE THE AUTHORITY TO MAKE
DECISIONS REGARDING THE OFFICIAL STATE OF ALERT IN THEIR AREA AND
ANY ACTIONS TO BE TAKEN IN RESPONSE.

AN EARTHQUAKE HAS OCCURRED WITH THESE PRELIMINARY PARAMETERS

ORIGIN TIME - 1818Z 19 MAR 2009
COORDINATES - 23.0 SOUTH 174.8 WEST
DEPTH - 10 KM
LOCATION - TONGA ISLANDS REGION
MAGNITUDE - 7.7

EVALUATION

SEA LEVEL READINGS CONFIRM THAT A TSUNAMI WAS GENERATED. THIS
TSUNAMI MAY HAVE BEEN DESTRUCTIVE ALONG COASTLINES OF THE REGION
NEAR THE EARTHQUAKE EPICENTER. AUTHORITIES IN THE REGION SHOULD
TAKE APPROPRIATE ACTION IN RESPONSE TO THIS POSSIBILITY. THIS
CENTER WILL CONTINUE TO MONITOR SEA LEVEL GAUGES NEAREST THE
REGION AND REPORT IF ANY ADDITIONAL TSUNAMI WAVE ACTIVITY. THE
WARNING WILL NOT EXPAND TO OTHER AREAS OF THE PACIFIC UNLESS
ADDITIONAL DATA ARE RECEIVED TO WARRANT SUCH AN EXPANSION.

FOR AFFECTED AREAS - WHEN NO MAJOR WAVES ARE OBSERVED FOR TWO
HOURS AFTER THE ESTIMATED TIME OF ARRIVAL OR DAMAGING WAVES HAVE
NOT OCCURRED FOR AT LEAST TWO HOURS THEN LOCAL AUTHORITIES CAN
ASSUME THE THREAT IS PASSED. DANGER TO BOATS AND COASTAL
STRUCTURES CAN CONTINUE FOR SEVERAL HOURS DUE TO RAPID CURRENTS.
AS LOCAL CONDITIONS CAN CAUSE A WIDE VARIATION IN TSUNAMI WAVE
ACTION THE ALL CLEAR DETERMINATION MUST BE MADE BY LOCAL
AUTHORITIES.

ESTIMATED INITIAL TSUNAMI WAVE ARRIVAL TIMES AT FORECAST POINTS
WITHIN THE WARNING AND WATCH AREAS ARE GIVEN BELOW. ACTUAL
ARRIVAL TIMES MAY DIFFER AND THE INITIAL WAVE MAY NOT BE THE
LARGEST. A TSUNAMI IS A SERIES OF WAVES AND THE TIME BETWEEN
SUCCESSIVE WAVES CAN BE FIVE MINUTES TO ONE HOUR.

LOCATION FORECAST POINT COORDINATES ARRIVAL TIME
-------------------------------- ------------ ------------
TONGA NUKUALOFA 21.0S 175.2W 1845Z 19 MAR
NIUE NIUE IS. 19.0S 170.0W 1904Z 19 MAR
KERMADEC IS RAOUL IS. 29.2S 177.9W 1912Z 19 MAR
AMERICAN SAMOA PAGO PAGO 14.3S 170.7W 1925Z 19 MAR
SAMOA APIA 13.8S 171.8W 1934Z 19 MAR
WALLIS-FUTUNA WALLIS IS. 13.2S 176.2W 1947Z 19 MAR
FIJI SUVA 18.1S 178.4E 2003Z 19 MAR

BULLETINS WILL BE ISSUED HOURLY OR SOONER IF CONDITIONS WARRANT.
THE TSUNAMI WARNING WILL REMAIN IN EFFECT UNTIL FURTHER NOTICE


19 Mar 09 ABC: Undersea volcano erupts off Tonga.
9 Mar 09 The Age: Keeping the fires burning - But the media focus on dramatic crises fails to convey the need for ongoing funding of less visible catastrophes or preventive measures. In the 1990s, the World Bank and US Geological Survey found that $1 spent on preventive measures would have saved $7 in economic losses from the world's natural disasters — to say nothing of billions of lives...surely it's time to engage our heads and invest much more in prevention-focused projects with at least some chance of yielding lasting change.
20 Feb 09 Radio NZ: South Pacific needs own tsunami warning centre.
19 Feb 09 (9.40am): PACIFIC TSUNAMI WARNING CENTER/NOAA/NWS
ISSUED AT 2204Z 18 FEB 2009 (8.54am 19/2 Sydney time)
AN EARTHQUAKE HAS OCCURRED WITH THESE PRELIMINARY PARAMETERS
ORIGIN TIME - 2154Z 18 FEB 2009
COORDINATES - 27.3 SOUTH 175.7 WEST
DEPTH - 36 KM
LOCATION - KERMADEC ISLANDS REGION
MAGNITUDE - 7.3
EVALUATION - NO DESTRUCTIVE WIDESPREAD TSUNAMI THREAT EXISTS BASED ON
HISTORICAL EARTHQUAKE AND TSUNAMI DATA.
16 Feb 09 The Australian: $60m on tsunami alert as fires, floods miss out - [opinion] the article gives the impression that the tsunami warning system is in place. Most vulnerable communities along Australia's coastline do not have a tsunami warning action plan or way to reliably receive a warning. In Australia Early Warning Network offers a free SMS service that relays tsunami warnings issued by the Australian Bureau of Meteorology. The service also covers other risks such as bushfires and cyclones.
11 Feb 09 The Australian: Cyclone warnings a model for blazes after Victoria bushfires (and tsunami)..."If there's a tsunami or a fire coming, at 2am, people don't have their electronic media on,"
31 Jan 09 Bay Post: New SES unit for Batemans Bay - Batemans Bay people worried about what would happen if a tsunami hit their area may rest easier...
23 Dec 08 SMH: How the inner-west was undone - [Sydney] councils prepare for the worst. Ashfield Council has the reports for downloading. Part 3 refers to some of these pages - but not the inundation map.
23 Dec 08 SMH: Warning system to be tested in Sydney CBD - "Experience shows getting timely, accurate information to the community is crucial during an emergency, and the speaker system throughout the CBD is one of the ways we will communicate with the public.
"There are 98 speakers located throughout the CBD, as well as 13 variable messaging signs which are positioned at transport hubs in the city, all of which play a major role in the Sydney CBD Emergency Plan."We don't want to alarm the public, we want them to be confident in the fact we have plans and systems in place for their welfare."
19 Dec 08 EMA: Australian Disasters Conference 2009: Surviving Future Risks, 10-13 February 2009, National Convention Centre, Canberra (thanks Kristin Fedorow - tsunami surivivor)
27 Nov 08 The Australian: Slip into something a little more devastating - large undersea landslides off Australia's east coast indicate the area may be at risk from tsunamis some day, say scientists who returned last week from a 15-day voyage mapping 13,000sqkm of the continental slope between Byron Bay, NSW, and Noosa Heads, Queensland...(thanks Sue Lennox)
31 Oct 08 ABC: Tsunami detection centre opens in Melbourne + Tsunami warning centre launched - "Australia has its own capacity to detect these tsunami events and so the country is much better prepared in the event that we do have another tsunami..." [opinion: this is warning, not civil preparation]
28 Oct 08 The Herald: Scientists to survey coast for tsunami research - fifteen scientists will leave Newcastle next month aboard the CSIRO research ship Southern Surveyor to investigate the potential for underwater landslides to trigger tsunamis along Australia's east coast...survey the continental slope between northern NSW and the Sunshine Coast [i.e not Sydney].
28 Oct 08 Pacific Magazine: Experts Assist PNG's Tsunami Warning and Mitigation System.
20 Oct 08 AFP: Powerful quake rattles Tonga + PTWC: Tsunami Bulletin - "NO DESTRUCTIVE WIDESPREAD TSUNAMI THREAT EXISTS..."
15 Oct 08 9News: Tsunami warning system almost functional (but not civil response)
12 Oct 08 Powerboat World: Boost for tsunami detection capability in WA.
30 Sep 08 (this item overwhelmed by Wall St!) PTWC: AN EARTHQUAKE HAS OCCURRED WITH THESE PRELIMINARY PARAMETERS
ORIGIN TIME - 1519Z 29 SEP 2008, COORDINATES - 30.1 SOUTH 176.8 WEST, DEPTH - 7 KM
LOCATION - KERMADEC ISLANDS REGION
MAGNITUDE - 6.9
EVALUATION - NO DESTRUCTIVE WIDESPREAD TSUNAMI THREAT EXISTS BASED ON HISTORICAL EARTHQUAKE AND TSUNAMI DATA. Comment: This is the Tonga region that is potentially a mega-tsunami source for Australia (Google Earth). Fortunately the magnitude of the earthquake was insufficient to cause an ocean-wide tsunami.
18 Sep 08 ABC Radio: New Pacific disaster risk management website launched - SOPAC.
17 Sep 08 Illawara Mercury: BBC [tsunami] documentary based on UOW professor's claims.
9 Sep 08 News.com.au: Strong quake off Vanuatu. Pacific Tsunami Warning Center: ORIGIN TIME - 1852Z 08 SEP 2008
COORDINATES - 13.5 SOUTH 166.9 EAST, DEPTH - 146 KM, LOCATION - VANUATU ISLANDS
MAGNITUDE - 7.1, EVALUATION: A DESTRUCTIVE TSUNAMI WAS NOT GENERATED BASED ON EARTHQUAKE AND HISTORICAL TSUNAMI DATA.
2 Sep 08 Environmental Expert: Australia's ocean research ship open to Sydneysiders - "This year the ship has ... discovered active submarine volcanoes in Fiji and deployed Tsunami warning buoys in the Tasman Sea."
1 Sep 08 Google Earth: The south west Pacific has been very active in the last few days - see image
28 Aug 08 A survivor of the Indian Ocean Tsunami has started a Facebook page to raise awareness of the risk: Tsunami Aware Beach-Lovers.
26 Aug 08 Canberra Times: Mine boom our bust, staff say - Staff at the Canberra-based national geological institution which also monitors earthquake and tsunami risks across the Pacific region will hold a lunch-time protest rally today...
25 Aug 08 State Emergency Services of NSW: SES Wants to Hear 1960 Tsunami Recollections (PDF)
22 Aug 08 Early Warning Network offers a free SMS service that relays tsunami warnings issued by the Australian Bureau of Meteorology.
15 Aug 08 Breakthrough! Illawara Mercury: Tsunami a real threat to Illawarra: professor - A tsunami would surge through most Illawarra beachside suburbs (link is not the Geoscience map - it was prepared using Google Maps) within minutes of appearing off the coast. Residents might get just two hours' warning if it originated near New Zealand. Water would surge forcefully along roads and waterways, carried to low-lying areas - in some cases more than a kilometre inland. The scenario has been used as part of animated hi-tech modelling to predict the impact of a large-scale disaster in Australia...Illawarra-South Coast State Emergency Service said it would organise warnings in the region during the approach of a tsunami and evacuate high-risk areas such as beaches and caravan parks. Deputy region controller Dianne Gordon said a tsunami education and evacuation plan for Illawarra would be released in November.
4 Aug 08 Science Alert: When push comes to shove - Unfortunately for us, one such zone is a couple of thousand kilometres off the north east coast of Australia. A large quake there could have the potential to generate a tsunami similar to the one in the Indian Ocean on Boxing Day 2004, though this time hitting land on Australia's eastern coast. "The interpreted geometry of the subducted plate there is alarmingly similar to the structure of the slab below Sumatra," says Dr Richards. ANU page.
30 Jul 08 SMH: Australia and Indonesia to share [tsunami] buoy
28 Jun 08 Tsunami Society: PRELIMINARY ANALYSIS OF THE EARTHQUAKE (MW 8.1) AND TSUNAMI OF APRIL 1, 2007, IN THE SOLOMON ISLANDS, SOUTHWESTERN PACIFIC OCEAN (4Mb PDF)
21 Jun 08 SMH: Crash and burn - Australia has been lulled into a false sense of security on disaster readiness
9 Jun 08 Pacific Magazine: Cook Islands To Get Tsunami Warning Check. "The Cook Islands participation in the first end-to-end Pacific-wide tsunami exercise in 2006 ("Pacific Wave") showed some improvements could be made in conveying tsunami warnings nationally to local communities and large organisations such as schools and the public sector."!
2 Jun 08 AFP: Strong quake strikes off Australia: US agency - no tsunami warning issued
29 May 08 ABC: [Aust] Tsunami warning system will 'stop false alarms'
9 May 08 NZ Herald: Don't panic but ... think-tank highlights flaws in disaster planning.
8 May 08 Australian Strategic Policy Institute: Taking a punch: Building a more resilient Australia

8 May 08 Sun Herald Mississippi: SAIC [US company] to Provide Additional Tsunami Buoys to Australia.
7 May 08 Herald Sun: Australia unready for big disaster - "Recent improvements to tsunami monitoring are commendable but don't help to convey the message of a potential impact to communities in the middle of the night,". Also in The Age.
25 Apr 08 New Scientist: Megaquake set to strike within a decade - sometime in the next 10 years we can expect an earthquake of a similar magnitude to the 2004 Sumatra quake that triggered the devastating Indian Ocean tsunami. Will it be the Tongan Trench?
13 Apr 08 SMH: Tide turns on tsunami alert - still no civil preparedness
9 Apr 08 AusGEO: Revealing the continental shelf off New South Wales - Bulli slide analysed (thanks Ted Bryant)
9 Apr 08 ABC: Asian tsunami a once in a decade event: expert.
4 Mar 08 SMH: Researchers cast doubt on mega-tsunami theory (but don't explain the multiple lines of evidence)
1 Oct 07 ABC: Scientists examine data from quakes off NZ - Emergency services on both sides of the Tasman [Sea] were on alert [to do what?], but [fortunately] neither of the quakes triggered a tsunami of any significance.
30 Sep 07 (6pm) Magnitude 7.4 quake south of New Zealand - low risk of long range tsunami.
28 Sep 07 (7am) Magnitude 6.3 earthquake near Vanuatu at 6am Sydney time.
5 Aug 07 Catalyst: Tsunami Buoy - Australia is not as immune from tsunamis as you might think...Climb aboard as Australia's first tsunami warning alarm is dropped into a deep ocean trench...scientists haven't done our job properly in communicating and working with the public. And at present the budget in the Australian Tsunami Warning System doesn't match the budget of the physical infrastructure (i.e. civil preparedness).
17 Apr 07 Dr George Pararas-Carayannis: EARTHQUAKE AND TSUNAMI OF 1 APRIL 2007 IN THE SOLOMON ISLANDS.
10 Apr 07 Australian: Radar net to sound alarm on tsunamis - A coastal ocean radar network able to estimate the size of a tsunami heading towards Australia is being set up in Queensland. (thanks Steve Ward) [opinion: not sure about the 1 hour warning claim - a deep water tsunami travels at around 500km/h, even though it will slow down in the shallower water of the continental shelf one hour to travel 150km seems optimistic]

5 Apr 07 ABC: 'Rough guide' tsunami warnings on the way - scientists cannot be confident their predictions will be very accurate, because they have not finished modelling how the sea behaves. (but see Steve Ward's real-time modelling below)
5 Apr 07 Steve Ward (tsunami modeller): Real Time Tsunami Forecast 4/1/2007 SOLOMON IS. Quake (several MOV files)
Monday's tsunami alert exposed numerous flaws in the preparedness for a major tsunami along the east coast of Australia. Since 1999 I have pointed out the lack of tsunami preparedness in Australia.

The report today in the Manly Daily is focussed on the dissemination of warning information but that is relatively straight forward. I subscribe to the Pacific Tsunami Warning Center's email alert service and received the first warning at 7.53am:
A TSUNAMI WARNING IS IN EFFECT FOR
SOLOMON IS. / PAPUA NEW GUINEA
FOR ALL OTHER PACIFIC AREAS, THIS MESSAGE IS AN ADVISORY ONLY.

10 minutes later this was upgraded to include Australia:
A TSUNAMI WARNING IS IN EFFECT FOR
SOLOMON IS. / PAPUA NEW GUINEA / VANUATU / NAURU / CHUUK /
NEW CALEDONIA / POHNPEI / KOSRAE / AUSTRALIA / INDONESIA /
TUVALU / KIRIBATI / MARSHALL IS.
...
ESTIMATED INITIAL TSUNAMI WAVE ARRIVAL TIMES. ACTUAL ARRIVAL TIMES
MAY DIFFER AND THE INITIAL WAVE MAY NOT BE THE LARGEST. THE TIME
BETWEEN SUCCESSIVE TSUNAMI WAVES CAN BE FIVE MINUTES TO ONE HOUR.

LOCATION COORDINATES ARRIVAL TIME
-------------------------------- ------------ ------------
SOLOMON IS. MUNDA 8.4S 157.2E 2039Z 01 APR
FALAMAE 7.4S 155.6E 2103Z 01 APR
...
AUSTRALIA CAIRNS 16.7S 145.8E 2349Z 01 APR
BRISBANE 27.2S 153.3E 0033Z 02 APR
SYDNEY 33.9S 151.4E 0114Z 02 APR
GLADSTONE 23.8S 151.4E 0139Z 02 APR
MACKAY 21.1S 149.3E 0144Z 02 APR
HOBART 43.3S 147.6E 0245Z 02 APR
(times are Universal/GMT so 0114Z equates to 11.14am in Sydney)

The big flaw exposed on Monday was the lack civil preparedness:
a) In Australia there are no computer models of shoaling tsunami to predict the size of a tsunami when it reaches the coast, based on its direction and deep water amplitude
b) There are no inundation models to predict which areas are at risk from tsunami of various sizes and no civil disaster plans to deal with such inundations.
c) There is no way to reliably and quickly warn the thousands of people in these areas (Sri Lanka now has air-raid style sirens along its coast).
d) People have not been taught what to do if they receive a tsunami warning (Pacific Islanders have been shown videos of tsunami to help them understand what to do. In Japan and Hawaii there are planned evacuation routes).

In short, some people who should have moved a safety did not and many people who were in no danger took unnecessary action and added to the disruption.

A typical misinformed comment of a person on the beach (with a young family!) was that they would wait until the sea receded before running to a high place. Firstly, the trough does not always arrive before the peak of the wave and secondly, as shown in the graphic videos from the Indian Ocean tsunami, people have no chance of out-running a tsunami. Tsunami move much faster than a normal ocean wave.

Although there were a few hours warning on Monday this is not always the case. For example, there are several examples of underwater landslide tsunami where a huge portion of the continental slope collapsed, often triggered by a minor earthquake. The continental slope off the coast of Sydney has not been surveyed for this risk and, in hindsight, the Newcastle Earthquake of 1989 should have been treated as a potential tsunami event.

Regards
Michael Paine
3 Apr 07 ABC: Tsunami forecasting needed now: Beattie [opinion: yesterday was a "dress rehearsal" - not a "false alarm" - and it is now evident that a great deal more effort is needed before coast dwellers are secure. There is an urgent need for inundation mapping so that civil authorities know which areas to evacuate - once a tsunami is predicted]
2 Apr 07 Update 10.30am : The threat to the East Coast seems to be easing. A news reports suggest very poor preparedness in Cairns where the road up to the hills was jammed with traffic at the same time that tourists stayed on the beachfront unaware of any threat.
2 Apr 07 ABC: Aust on alert after tsunami hits Solomons - the Pacific Tsunami Warning Center has expanded its warning as the quake was bigger than first thought. Approximate arrival times: Brisbane 10am, Sydney 11am. DO NOT go to the coast to watch - it is likely to be quite small but all warnings like this should be taken very seriously.
23 Feb 07 New Scientist ($): The wave from nowhere - Shortly after 5 pm on 18 November 1929, an earthquake shook Canada's eastern provinces. In Halifax, Nova Scotia, a seismometer needle jumped right off track. Across the Gulf of St Lawrence, on Newfoundland's Burin peninsula, the tremors sent people running into the streets. But for them, worse was to come. Two hours later, 7-metre waves hit the shore, their momentum carrying them as far as 27 metres above the high-tide level...
29 Jul 05 Geology News: Tsunami Threat by Undersea Volcanoes - Submerged volcanoes in the South Pacific can erupt at any time, and are apparently the source of a very dangerous tsunami hazard according to a new study done by researchers at Australian National University. "Over the last six years, research teams from Australia, New Zealand, the USA, and Germany have mapped a relatively narrow strip of ocean stretching about 2000 kilometres from the north of New Zealand to Tonga, and found 75 previously unknown volcanoes. Only 10 volcanoes were known in the area prior to this research," he said. "If any one of these underwater volcanoes either explosively erupts or collapses in a sudden movement, it would have a massive impact on the ocean, triggering a tsunami which could devastate communities across the region. There is evidence from new high-resolution images of these volcanoes that these events have happened many times in the past.
Local earthquakes may be a sign of a tsunami
In 1989 the Newcastle/Sydney region experienced a mild earthquake and 15 people died when a building collapsed in Newcastle. Following analysis of the 1998 New Guinea tsunami, it is now apparent that "mild" earthquakes can set off undersea landslides on nearby continental shelves that, in turn, generate deadly localised tsunami. In any case, an off-shore undersea landslide might be felt as a mild earthquake so if you feel an earthquake in the coastal zone, quickly move to higher ground

Sometime in the last few centuries an giant landslide occured off the coast between Sydney and Wollongong. See the diagram below. This is likely to have caused a mega-tsunami along the nearby coastline.

Maybe once thorough seafloor surveys have been conducted and analysed for landslide potential then some coastal areas can be declared "safe" from such short-range tsunami. In the meantime it would be prudent for people on coastlines with steep continental slopes (like Sydney) to quickly move to higher ground if they feel an earthquake, in case such a landslide tsunami is generated. See 'The Need for Underwater Landslide Hazards Prediction" - a report by Phillip Watts on a 2000 workshop in

Science of Tsunami Hazards

Volume 20 No 2, page 95 (6Mb PDF).

Caption: Underwater survey showing a landslide on the continental slope between Sydney and Wollongong. It is about twice the size of Botany Bay and the depth is greater than the height of Mt


Not so rare!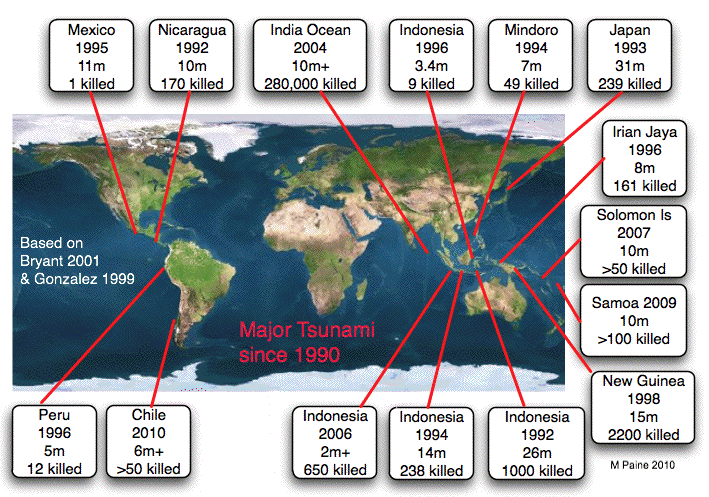 Updated 17 Mar 2011 (Japan disaster) & now PDF format. Click for larger image. May be reproduced with credit to this page or Michael Paine.

Comment on the SE Asian tsunami disaster, 26 Dec 04.
This horrific tsunami was caused by an earthquake - not an asteroid - but the consequences are similar. Like the
asteroid threat
, warnings from experts about the risk and consequences of major tsunami have been largely ignored, except in Japan and Western USA.
Japan and the USA have a very a effective
tsunami warning system in the Pacific Ocean
. It is based, partly, on
pressure sensors on the ocean floor
. Tsunami waves are so long that they change the pressure at the seafloor whereas wind waves get smoothed out.
It would be possible to set up a similar tsunami warning system in the Indian Ocean - for a few $million (ie the cost of a few cruise missiles)! However some locations, such as Sumartra, were probably too close to the source of the tsunami for a warning system to be effective and in other areas communication limitations might hinder evacuation.
NEWS related to the Indian Ocean Tsunami (latest at top)
8 Jan 15 EPS: The 2004 Indian tsunami in Thailand: Surveyed runup heights and tide gauge records (thanks Kristin Fedorow)

25 Nov 14 Astro Awani (Malaysia): 24 countries mark 10th anniversary of 2004 tsunami

14 Sep 14 UN News Centre: UN-organized tsunami exercise shows Indian Ocean region now 'better prepared' - "Countries must remain alert

and prepared

against the ever present tsunami threat,"

8 Sep 14 Skynews: Aust joins in Indian Ocean tsunami test. - It will check the efficiency of communication flows between the 24 countries, general readiness and the efficiency of emergency procedures.

14 Dec 13 ChannelNewsAsia: "Stunning" tsunami record discovered in Indonesian cave

16 Apr 12: The Star (Malaysia): Shelter from tremors
16 Feb 12 NewSci: Islands on land could make towns tsunami-proof.(wishful thinking?)

26 Jan 12 Scientific American: Post-Disaster Recovery: Lessons from the 2010 Haiti earthquake.

12 Jan 12 Phuket News: Phuket safe and sound after tsunami scare [alert not scare!]
15 Nov 11 SciAm: U.S. East Coast Tsunami Risk Investigated with Sonar
9 Oct 11 Tehelka: New tsunami warning system will be tested soon - In order to avoid disasters and warn of impending ones, the new Indian Ocean Tsunami Warning and Mitigation System will be put to test next week (12th October).
18 Feb 11 New Scientist: Foreshocks may warn that a big quake is coming.
6 Feb 11 The Hindu: Indian Tsunami Early Warning Centre to turn regional provider.
15 Dec 10 Nature: Haiti to improve quake preparedness.
6 Nov 10 Jakarta Globe: Indonesian Tsunami Reveals Cracks in Warning System.
26 Oct 10 Thaindian News: Powerful earthquake, small tsunamis hit Indonesia. PTWC details.
15 Sep 10 Nature: Tsunamis leave ionosphere all shook up - The signals of GPS satellites could be used to monitor tsunamis [sic] as they sweep across the ocean. ..
3 Apr 10 STH: DESIGN LOAD EVALUATION FOR TSUNAMI SHELTERS BASED ON DAMAGE OBSERVATIONS AFTER INDIAN OCEAN TSUNAMI DISASTER DUE TO THE 2004 SUMATRA EARTHQUAKE.
2 Apr 10 NewSci: When will a Mediterranean tsunami hit Italy? - potential seamount collapse could result in a tsunami
26 Feb 10 BBC: Lessons to be learned from Haiti's tsunami - Researchers have discovered that January's huge quake triggered a tsunami + Nature: Haiti earthquake produced deadly tsunami.
15 Feb 10 BBC: Why did so many people die in Haiti's quake? - lessons for tsunami preparedness.
27 Jan 10 ReliefWeb: East Asia and Pacific: Humanitarian Assistance in Review1, Fiscal Year (FY) 2000 – Present.
27 Jan 10 New Scientist: Undersea internet cables could detect tsunamis.
27 Dec 09 RedOrbit: Coastal Trees Poor Protection Against Tsunamis - "The best way to protect human lives against tsunamis or large storm surges is through education, early warning and evacuation planning"
27 Dec 09 ABC: Tsunami could strike SE Asia again, experts warn - the new technology will not save lives unless local communities are more involved in planning how to respond + Quake rocks Indonesia as region remembers tsunami -
24 Dec 09 Nature: Tsunami watch - Five years after the Indian Ocean disaster, the technology is in place, but local preparedness is less advanced.
23 Dec 09 ReliefWeb: Fifth anniversary of the Asian tsunami (Oxfam media release)
22 Dec 09 UK Telegraph: Indonesia's next big quake 'due' under Mentawais - but see this explanation of Poisson events.
3 Oct 09 New Scientist: Devastating Indonesian earthquake 'still to come'
13 Sep 09 Sri Lanka Sunday Observer: Tsunami warnings are only a test...be alert to these warnings all those of you who are in any of these districts and educate yourselves as to what you should do in the event of a real tsunami warning. You must not panic because there is enough time for you to get to higher land and safely before a tsunami reaches our shores. It is good to be prepared for such a situation at all times.
12 Aug 09 Malaysian Insider: Geologist narrows down location of South-east Asia's 'next big quake'
11 Aug 09 TSUNAMI BULLETIN NUMBER 001, PACIFIC TSUNAMI WARNING CENTER/NOAA/NWS
ISSUED AT 2005Z 10 AUG 2009 (6am 11/8 Sydney). THIS BULLETIN IS FOR ALL AREAS OF THE INDIAN OCEAN. ... A REGIONAL TSUNAMI WATCH IS IN EFFECT ...
...A TSUNAMI WATCH IS IN EFFECT FOR INDIA / MYANMAR / INDONESIA / THAILAND / BANGLADESH .... AN EARTHQUAKE HAS OCCURRED WITH THESE PRELIMINARY PARAMETERS
ORIGIN TIME - 1956Z 10 AUG 2009, COORDINATES - 14.1 NORTH 93.0 EAST , LOCATION - ANDAMAN ISLANDS INDIA REGION, MAGNITUDE - 7.7
EVALUATION - EARTHQUAKES OF THIS SIZE HAVE THE POTENTIAL TO GENERATE A
DESTRUCTIVE LOCAL TSUNAMI AND SOMETIMES A DESTRUCTIVE REGIONAL
TSUNAMI ALONG COASTS LOCATED USUALLY NO MORE THAN A THOUSAND
KILOMETERS FROM THE EARTHQUAKE EPICENTER... HOWEVER - IT IS NOT KNOWN THAT A TSUNAMI WAS GENERATED. THIS WATCH IS BASED ONLY ON THE EARTHQUAKE EVALUATION.
11 Aug 09 TSUNAMI BULLETIN NUMBER 001, PACIFIC TSUNAMI WARNING CENTER/NOAA/NWS
ISSUED AT 2117Z 10 AUG 2009..
AN EARTHQUAKE HAS OCCURRED WITH THESE PRELIMINARY PARAMETERS
ORIGIN TIME - 2007Z 10 AUG 2009 (11 minutes after the Andaman earthquake!)
COORDINATES - 34.8 NORTH 138.5 EAST
LOCATION - NEAR S. COAST OF HONSHU JAPAN
MAGNITUDE - 6.6
EVALUATION
NO DESTRUCTIVE WIDESPREAD TSUNAMI THREAT EXISTS BASED ON
HISTORICAL EARTHQUAKE AND TSUNAMI DATA.
16 Jul 09 ABC: Ocean tsunamis 'visible from space'
4 May 09 BBC: Ancient tsunami 'hit New York'
22 Apr 09 NewSci: Quake rumbles give quick tsunami warnings
22 Mar 09 Indian Tinmes: Is there a Tsunami round the corner - Major earthquake rocks Tonga?
20 Mar 09 New Scientist: Tsunami 'trigger' spotted on Google Earth .
7 Mar 09 Science of Tsunami Hazards, Vol. 28, No. 1 (PDFs)
28 Feb 09 The News (Pakistan): Karachi not prone to major earthquakes [or tsunami], SSUET study claims.
15 Feb 09 SBS TV (Aust): Thalassa - The Island-Citadel. A centre in Kobe studies the probability of tsunamis and earthquakes and draws up evacuation plans.
8 Jan 09 Insurance Journal: AIR Worldwide Analyzes Recent Earthquakes in Indonesia.
29 Dec 08 SMH: Sunscreen saved couple in [2004] tsunami.
12 Dec 08 Nature: Earthquake warning for Sumatra.
4 Dec 08 Nature: Megathrust earthquake could hit Asia 'at any time'. (see also Dr George P-C's article The Earthquakes and Tsunami of September 12, 2007 in Indonesia - Preliminary Report)
23 Nov 08 More Tsunami Society 2008 papers relevant to Indian Ocean (PDFs):
21 Nov 08 Discovery: Did Asteroid Cause Ancient N.Y. Tsunami? (thanks Steve Ward - see link to his computer simulation)
14 Nov 08 BBC: New tsunami system in Indonesia
30 Oct 08 Nature: Ancient tsunami uncovered - Indian Ocean disaster of 2004 was biggest in more than 600 years + BBC: Tsunami in 2004 'not the first'.
27 Aug 08 SMH (2 Jan 05): 10 miracles of survival in the wake of catastrophe.
26 Aug 08 ABC: Tsunami warning issued after quake off Indonesia - note that 6.6 magnitude is not usually a threat, except if it sets off local submarine landslides. The Pacific Tsunami Warning Center has no current alerts for the Indian Ocean.
19 Aug 08 Times of India: Radio stations turn [tsunami] watch towers.
12 Aug 08 Independent Online: Japan signs deal on tsunami warning data - data can be obtained from sensors set up to montitor the Comprehensive Nuclear Test Ban Treaty.
5 Aug 08 Tsunami Society 2008 papers relevant to Indian Ocean (PDFs):
28 Jun 08 New Scientist: Springy [seafloor] sediments may amplify tsunamis
28 Jun 08 Tsunami Society 2008 papers relevant to Indian Ocean (PDFs):
28 Jun 08 ABC: No tsunami warning issued after quake, says India. PTWC alert.
24 Jun 08 ReliefWeb: Global Facility for Disaster Reduction and Recovery (GFDRR) provides support to ASEAN.
18 May 08 Canadian Press: Sean Penn uses Cannes clout to back documentary about tsunami volunteers.
25 Apr 08 New Scientist: Megaquake set to strike within a decade - sometime in the next 10 years we can expect an earthquake of a similar magnitude to the 2004 Sumatra quake that triggered the devastating Indian Ocean tsunami.
14 Mar 08 SpaceDaily: Top Thai tsunami expert resigns over 'lack of support'.
11 Mar 08 NewSci: Mediterranean's 'horror' tsunami may strike again.
3 Feb 08 NewSci: Tsunami threat hangs over southern Italy + Journal of Geophysical Research ($): Earthquake-generated tsunamis in the Mediterranean Sea: Scenarios of potential threats to Southern Italy - Our work represents a pilot study for constructing a basin-wide tsunami scenario database to be used for tsunami hazard assessment and early warning. + STH: TSUNAMI RISK SITE DETECTION IN GREECE BASED ON REMOTE SENSING AND GIS METH0DS +
24 Jan 08 Universe Today: Using GPS Could Better Tsunami Warning System
19 Dec 07 EPSL ($): Tsunami threat in the Indian Ocean from a future megathrust earthquake west of Sumatra - These results may assist in developing tsunami preparedness strategies around the Indian Ocean and in particular along the coasts of western Sumatra...
7 Dec 07 [Barbados] The Nation: [Caribbean] Tsunami overdue - The most recent occurred in 1946 – 61 years ago – when a magnitude 8.1 earthquake in the Dominican Republican triggered a giant wave that killed 1 800 people... See also STH: VOLCANIC TSUNAMI GENERATING SOURCE MECHANISMS IN THE EASTERN CARIBBEAN REGION.
23 Nov 07 STH selected recent papers

23 Nov 07 USGS: Powerful earthquake hits New Guinea coast near Lae - deep but a potential for local tsunami. ABC: Strong quake hits PNG. The Pacific Tsunami Warning Centre says there is no threat of a long-range tsunami but no statement is made about local tsunami.
3 Nov 07 EPSL ($): 26th December 2004 great Sumatra–Andaman earthquake: Co-seismic and post-seismic motions in northern Sumatra - the vertical motion of the adjacent Outer Arc and overlying water is much larger compared to the one resulting from slip on the megathrust alone, increasing tsunamogenic effects.
21 Sep 07 Science ($10!): Tsunami Warning System Shows Agility--and Gaps in Indian Ocean Network.
13 Sep 07 SMH: 'Luck' stopped devastating tsunami. (4 major earthquakes in 24 hours)
6 Sep 07 NewSci: Tsunami threat hangs over Bay of Bengal.
2 Sep 07 EPSL: Defining the source region of the Indian Ocean Tsunami from GPS, altimeters, tide gauges and tsunami models - the incorporation of permanent real-time GPS stations would represent a valuable component of future tsunami warning systems.
28 Aug 07 New Scientist: Tsunami prediction for Hong Kong and Macao.
11 Jun 07: TSUNAMI-WARNING is a partner of the Tsunami Institute in Germany which developed a Tsunami Alarm System via mobile phones.
8 May 07 New Scientist: What caused Britain's 1607 tsunami?
13 Mar 07 New Scientist 50 years ago: 10 March

1957

- Pacific wave warnings -

Because tidal waves travel at a few hundred kilometres an hour, it is possible from the ground waves to estimate when they will arrive at places where damage may be caused. It is hoped that this will eventually lead to an early warning system for vulnerable areas.

16 Feb 07 New Scientist ($): When animals predict earthquakes - Could these creatures have been sensing early warning signs of the massive earthquake that triggered the Asian tsunami? See also the preview for a forthcoming TV show Sentinel Animals by Mona Lisa Productions.
1 Feb 07 Whales Alive (posted in Jan 05): Dr Arunachalam Kumar's prediction of a major earthquake, based on whale strandings + David Moorehead: The Earthquake & Tsunami were Predicted? & a skeptical Disaster warning: a whale of a tale (thanks Audrey Destandau)
19 Jan 07 LiveScience: Tsunamis: The Grave, Global and Unpredictable Threat.
16 Jan 07 China Post: Thousands ignored tsunami warnings after massive quake - Thousands of Japanese ignored evacuation orders an earthquake triggered tsunami warnings, raising concerns among officials about future disaster management, major newspapers reported Sunday. A magnitude 8.2 earthquake struck off northern Japan on Saturday, prompting tsunami warnings and sending thousands fleeing to higher ground but causing no reported injuries or damage. Thousands of others ignored the warnings...USGS details of earthquake.
29 Dec 06 IHT: Moderate earthquake [6.0] strikes deep off Papua New Guinea coast - "the quake was too deep to create a tsunami" - except it is now apparent that "mild" earthquakes can set off undersea landslides on nearby continental shelves that, in turn, generate deadly localised tsunami.
7 Dec 06 TerraDaily: Mapping The Wake Of A Pending Quake - within the next few decades another tsunami from another giant earthquake is likely to flood densely populated sections of western coastal Sumatra...
7 Dec 06 Science: Tracking a Killer Tsunami - the new study strengthens the link between volcanism and megatsunamis.
2 Dec 06 BBC: Tsunami buoy laid in Indian ocean.
16 Nov 06 AGU 2006 Selected abstracts:
16 Nov 06 ABC: Small tsunamis hit Japan.
28 Sep 06 BBC: Samoa quake 'triggered tsunami' - A strong earthquake near the South Pacific nation of Samoa has triggered a small tsunami, a warning centre says. USGS map.
3 Sep 06 Australian Journal of Emergency Management : Dealing with the Tsunami dead: unprecedented international co-operation.
31 Jul 06 SMH: Bureaucracy 'slowed Java tsunami alert'.
23 Jul 06 ABC: Indonesia tsunami death toll rises above 650.
20 Jul 06 ABC: Indonesia says tsunami killed 528, displaced thousands + Tsunami text warning coordinates only, officials say.
19 Jul 06 BBC: Indonesia tsunami system 'not ready' - The final part of the jigsaw is getting the warning message from tsunami monitoring centres...to often isolated communities...Networks of sirens are also being set up this year in the Aceh, Padang and Bali regions to alert people who may be too poor to own TVs, radios or mobile phones.
18 Jul 06 ABC: Aust survivor tells of 5-metre tsunami - Australian survivors of a devastating tsunami on Java's south coast say that up to six waves struck the area yesterday.
18 Jul 06 The Age: Aussies escape 2m Java tsunami wave. WP: Tsunami hits Indonesia's Java, death toll nears 40.
10 Jul 06 NewSci: Tsunami warning system not enough -

is essential to ensure the "downstream flow" of information from the warning centres to populations and communities at risk...Will there be the means to relay information to those who live on and near the beaches?

1 Jul 06 NASA: NASA Satellite Positioning Software May Aid in Tsunami Warnings.
29 Jun 06 BBC: Asia tsunami warning system ready - even a 100% successful warning system would be ineffective "if people do not know how to respond to the emergency".
2 Jun 06 Steve Ward: Simulation of Boxing Day tsunami (mov)
13 May 06 Selection of recent papers from Science of Tsunami Hazards (PDFs):
12 May 06 NewSci: Tsunami still pollutes Sri Lankan wells.
5 May 06 IHT: Tsunami warning systems prove they're not up to job.
4 May 06 SMH: Major quake rocks South Pacific (6:15am) Islands are being checked after a massive earthquake near Tonga sparks a tsunami alert and evacuations. The Pacific Tsunami Warning Centre issued a tsunami alert for Fiji and New Zealand after tide gauges in Pago Pago, Samoa and Niue showed a small rise in sea levels, but this was subsequently withdrawn.
7 Apr 06 ABC: Ministers to develop national disaster plan - "Rather than just looking at things like bushfires and floods and storms, which occur regularly in Australia, the focus of our discussions will be on preparing Australia to be able to respond to things like a tsunami, or a pandemic, or even a major terrorist attack somewhere on our shores..."
26 Mar 06 ABC: [Australian] Govt to oversee tsunami warning system extension - The Federal Government will oversee the installation of new tsunami warning buoys in the Indian Ocean as part of a new scientific deal with the United States [still no sign of a civil response program for Australian coastal towns].
2 Feb 06 BBC: 'Scant help' for tsunami victims
28 Jan 06 BBC: Huge quake off Indonesian coast
6 Jan 06 Scientific American: Tsunami: Wave of Change
26 Dec 05 BBC: Local action 'key in tsunami aid' + Tsunami trees

- How mangrove forests helped save lives in the tsunami disaster (see 30 Oct)

22 Dec 05 Nature (subs!): India makes waves over tsunami warning system Will data to be shared be sufficient?
13 Dec 05 Livescience: Report: California Tsunami Could Kill 1 Million. + The Megatsunami: Possible Modern Threat posted: 14 December

2004

. (prior to the Indian Ocean tsunami).

9 Dec 05 BBC: Scientists voice [Sumatra] tsunami concern
8 Dec 05 ABC Science Show: [Australian] Tsunami threat from submerged volcanoes

2 Dec o5 BBC: Tsunami probe scolds Swedish PM
1 Dec 05 Livescience: Insurance Company Funds Study of East Coast Tsunami Risk (thanks Steve Ward)

30 Oct 05 UPI: Study: Mangroves protect against tsunami.

27 Sep 05 NZ Herald: Tsunami could catch Auckland off its guard -

Auckland could be hit with little or no warning by a southbound tsunami from the Pacific Ocean

8 Sep 05 ANU: Submerged volcanoes pose tsunami threat - One of the world's most active volcanic areas is a relatively unknown part of the seabed between New Zealand and Tonga, and could trigger a devastating tsunami at any moment...[dont lose any sleep over this but it is certainly worth investigating further as it could be the source of some of the mega-tsunami along the eastern seaboard of Australia]

2 Sep 05 NewSci (subs): Tsunami waves 'shot along' mid-ocean ridges
28 Aug 05 NewSci: Indian Ocean tsunami's puzzling waves explained
12 Aug 05 Science (subs): Dealing with disasters.

10 Aug 05 BBC: Green light for tsunami sensors - in Indian Ocean

9 Aug 05 Yahoo: Hawaii Study: Trees Buffer Tsunami Impact
3 Jul 05 New Scientist (pay to view!): Worries over US response to tsunami scare - A confused media and an unaware public raise doubts over whether some US coastal areas could cope with the real thing. On 14 June, at 7.50 pm local time, an undersea quake rocked the coast of northern California, and the entire west coast of the US and Canada was instantly put on a tsunami alert. The alert turned out to be a false alarm, but the patchy response to the scare is raising questions about whether the vulnerable coast will be ready if a big tsunami really does strike. And evidence of past tsunamis is showing that big ones do happen, and with ominous frequency [~400 years]...

1 Jul 05 The Age: UNESCO launches tsunami warning system.

26 Jun 05 BBC: Tsunami alert system takes shape - Six months on from the 26 December tsunami, a comprehensive early warning system is coming together.

24 Jun 05 Science: Forecasting a Tsunami Years Before it Hits
15 Jun 05 ABC: Australian witnesses tsunami panic in Chile - comment: although there was no danger of a tsunami the experience does suggest that coastal Chile is not well prepared, even though it has experienced some of the worst tsunami over the centuries.

11 Jun 05 LiveScience: Tornado Deaths on Decline - The number of tornado deaths has decreased by nearly half since a network of Doppler weather radars were installed nationwide a decade ago, according to a new study. Successful warning system.

10 Jun 05 IGNSL (Feb05): ASIAN TSUNAMI DAMAGE PROMPTS RETHINK IN NZ
10 Jun 05 BBC: UK backs hazard warning system
9 Jun 05 SMH: Quake may be 'imminent' warns tsunami expert.

24 May 05 RealSurf: Is Sydney at risk from a tsunami?

24 May 05 Amateur Tsunami Video Footage.

20 May 05 US Congress: BOEHLERT INTRODUCES TSUNAMI PREPAREDNESS BILL
5 May 05 ABC: WHO deconstructs tsunami response - The World Health Organisation (WHO) is hosting a three-day meeting in the Thai resort town of Phuket to consider the lessons of the Indian Ocean tsunami.
28 Apr 05 NG: Tsunami Proofing: Where to Put Walls, Trees + Saved by Knowledge of the Sea.

25 Apr 05 Engineers Australia April 2005: Tsunami risk may be higher on our east coast (not online - unedited preprint)

8 Apr 05 ABC: Indonesia reduces possible tsunami death toll
7 Apr 05 AustGeo Mar 05: The Boxing Day Tsunami – and the need for a warning system in the Indian Ocean (PDF)
6 Apr 05 Scientific American: Reanalysis Reveals Tsunami-Spawning Quake to Be Second Largest
Known.

3 Apr 05 ABC: CSIRO moorings may help warn of tsunamis - New research involving Tasmanian scientists aims to produce more effective tsunami warnings in the Indian Ocean.
31 Mar 05 Nature: Indonesia still in jeopardy (further earthquakes) + articles about the December event.

30 Mar 05 BBC: New quake makes only small wave + Asian nerves frayed by earthquake.

26 Mar 05 BBC: Tsunami alert system's limitations
17 Mar 05 BBC: Warning on new Asian quake threat.

14 Mar 05 Yahoo: Pacific Center Sued Over Tsunami Warning !

9 Mar 05 ABC: Thai tsunami study not for public release - The official appointed to investigate the failure of Thailand's weather bureau to issue a tsunami warning on December 26 says his findings will never be revealed.
8 Mar 05 ABC: Australian tsunami toll raised to 21
3 Mar 05 SMH: Darwin rocked by earthquake -

measuring 7.1 on the Richter scale. Its epicentre was in the Banda Sea near Indonesia. Although it was the biggest in several years in the Banda Sea, the quake was unlikely to have done any significant damage and "very unlikely to cause a tsunami"

. Opinion: That is OK to say in hindsight BUT

Should there have been an immediate tsunami alert? (geoscientists report that the earthquake was too deep below the seafloor to cause a significant tsunami)

IF there was a threat, how would an alarm be raised?

Would residents of low-lying parts of Darwin know what to do?

A balance needs to be struck between unreasonable false alarms and preparedness. Ignoring the potential threat is not an ethical option.

8 Jan 05

National Oceanic and Atmospheric Administration

: Online copy of Tsunami! from Scientific American, May 1999.

Its awesome fury cannot be diminished, but lessons learned from a rash of disasters this decade—and a new way to track these killer waves—will help save lives. +

PMEL Tsunami FAQ. Real time tsunameter data - locations on the West Coast of the USA.

8 Jan 05 UCSC: UCSC geophysicist creates computer simulation of Indian Ocean tsunami - 9Mb Quicktime movie.

8 Jan 05 Universe Today: Topography Mission Wraps Up With Australia
7 Jan 05 Science: In Wake of Disaster, Scientists Seek Out Clues to Prevention.

7 Jan 05 SpaceDaily: Tsunami-Hit Nations To Get Warning System
7 Jan 05 New Scientist: Tsunami warning system is not simply sensors.

6 Jan 05 Diagrams "Major tsunami in the 1990s" and "Killer tsunami in historical times" (may be reproduced with credit to this page). Update 8 Jan: 1976 Guatemala event removed from map, based on NOAA database.

6 Jan 05 SpaceDaily: Reducing The Death Toll From Tsunami (by Michael Paine)

6 Jan 05 AusGeo News 75 -

September

2004 (before the Dec 2004 tsunami): Small threat, but warning sounded for tsunami research (PDF)

... the magnitude of the 1833 [Sumatra] earthquake may have been as high as 9.2 based on a recent study that used the growth ring record of coral micro-atolls to estimate the uplift. This massive earthquake would probably have affected the entire Indian Ocean basin, and the whole Western Australian coastline.

.. (thanks Duncan Steel)
6 Jan 05 TodayOnline (Singapore): Scientist warned of tsunami danger

15 years ago

...

in a radio interview, Dr Pararas-Carayannis said he submitted a report to the United Nations in the late 1980s highlighting the possibility of tsunamis happening in South East Asia. In the report he pointed out the possibility of a very large earthquake in the sea off Sumatra. "There was no doubt in my mind that it would happen. The question is when it would happen,"

2 Jan 05 Liberation: Nobody should have been surprised (English translation) -

People seem to have a very short


memory of disasters... They always wait until after a catastrophe - like the one that occurred on Sunday - to take a some plan of action...

2 Jan 05 Athens Post: Mediterranean also at risk of tsunamis, experts warn
1 Jan 05 World News: Tsunami predicted, not heeded + SMH: Anger rises in India over lack of warning
29 Dec 04 Space.com: Arthur C. Clarke, in Sri Lanka, Calls Tsunami 'Disaster of Unprecedented Magnitude' In 1973 Sir Arthur wrote these words in Rendezvous with Rama: "

After the initial shock, mankind reacted with a deterimination and unity that no earlier age could have shown. Such a disater, it was relaised, might not occur again for a thousand years - but it might occur tomorrow. And the next time to consequences could be even worse. VERY WELL; THERE WOULD BE NO NEXT TIME". (He was describing a fictional asteroid impact).



29 Dec 04 Copy of "The Great Earthquake and Tsunami of 26 December 2004 in Southeast Asia" by Dr. George Pararas-Carayannis temporarily added due to his website being overloaded. Disaster Pages of Dr George Pararas-Carayannis. Information about this tsunami.
23 Aug

03

Economist: The next big wave - tsunami detection
2001 - "Tsunami - the under-rated hazard" - book by A/Prof Ted Bryant. "In the past decade over ten major tsunami events have impacted on the world's coastlines, causing devastation and loss of life. Evidence for past great tsunami, or 'mega-tsunami', has also recently been discovered along apparently aseismic and protected coastlines. With a large proportion of the world's population living on the coastline, the threat from tsunami cannot be ignored..."
Dec 1999: CONTEMPORARY ASSESSMENT OF TSUNAMI RISK AND IMPLICATIONS FOR EARLY WARNINGS FOR AUSTRALIA AND ITS ISLAND TERRITORIES by Rynn and Davidson + Review of the risk in Australia.
See USGS for more information about tsunami warning systems and details of the 26 Dec event.
UNESCO International Coordination Group for the Tsunami Warning System in the Pacific -

"The real tragedy of all this is that the system is there, the technology is there, the capability is there, it just wasn't in place in the Indian Ocean when the thing hit."

Booklet: Tsunami The Great Waves (9Mb PDF)
First reports posted here (below)
More links under News and Tsunami Links

---

email (replace AT with @)
Michael is a consulting mechanical engineer who lives in the Northern Beaches of Sydney. He has been researching tsunami since 1998 and has had two papers published in the international journal
Science of Tsunami Hazards
: